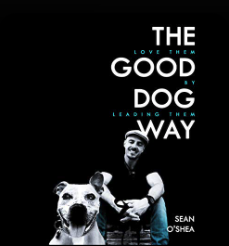 We were recommended this book by our dog trainer to help with our ongoing struggles with Mackay. He's an anxietal pup who needs a lot of work. But, after seeing them train Mackay, I'm a believer. I've never seen such a change from a dog who is a bit bipolar. He can be so very sweet, but also snip at you if he feels comfortable. But after the training, he was very obedient, didn't bark, and was ready to listen.  So, as Mackay got back to his "normal" life, I read this book, and here were the high-level learnings:
Love the dog by leading the dog. Be the leader your dog wants you to be.
Dogs need discipline. They need to know what's right and wrong.

They don't know unless you tell them.

To get people or pets out of being stuck, they must see strength. They must be led with strength. They need to be told what to do. They don't need affection at this point.
Use the eCollar. It works.
The more structure; the better behavior
TGD Reboot program:

Dog sleeps and is in crate
Withhold affection and food to correct behavior
Practice tons of duration "Place" work
Don't do just what's easy. Challenge on what's difficult.
Always work on duration, distance, and distraction to grow training.
No free feeding.
Walks are like PE. It's structured. No marking , sniffing, pulling.
Dog needs to heel 90% of time. They're allowed to potty/sniff 10% time.
All negative behavior is corrected firmly.