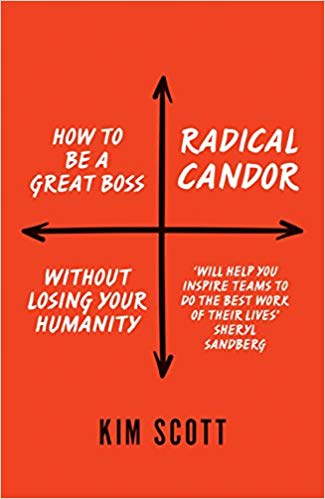 I picked this book up after hearing my wife and sister-in-law discuss it. I was interested. And it's one of the best management books I've read. Here's what I learned:
At Apple we hire people to tell us what to do. Not the other way around.
You have to build relationships of trust that can support it.
Management is not babysitting. it is:

Guidance – this is called feedback (praise and criticism). People dread feedback.
Team Building – Figuring out the right people for the right job.
Results

Bosses guide a team to achieve results.
Relationships drive you forward. Similar to the monkey clans that we listened to where the most social monkey, not the strongest, leads the pack.
To build trust, you must share a bit more than "your work-self". When people trust you and believe you care for them.
"Being responsible sometimes means pissing people off"
If nobody is ever mad at you, probably aren't challenging your team enough.
Understand wording. "You sound stupid" vs. "You're stupid". Focus on the action, not the person. Never make it personal.
Be direct. Be clear. It's not mean.
Even when it's a success, there's always room for feedback.
People would rather work for a competent asshole than a nice incompetent.
To give criticism, also means to take criticism. Build trust with team by asking for criticism.
Your job is to listen with intent. Don't ever act defensively.
When I'm criticizing, be less nervous. Focus on just saying it, rather than overthinking. "Just go down the waterslide; don't overthink it."
The best thing you can do to someone who is really good. Point out when they're not.
Criticize without being discouraging. And build trust "e.g. you have spinach in your teeth and let them know."
Care Personally
Your team will be built with rock stars and superstars. Rock stars do a great job in the role they are in. Super stars want the next thing.
Not all people want the next role. And any boss that holds them back is shit.
Don't bullshit people in feedback and their career.
Let a person find their own purpose in work. You won't be able to define it for them.
Be a partner, not an absentee manager or micromanager.
Ask a lot of questions to challenge people.
Spend time with "all" your children from the superstars to the rockstars. Don't let them on their own; that shows you don't care.
The Peter Principle – Getting promoted to the level of incompetence.
The boss sets up the quality bar. The thing that is mean is lowering the bar.
When you have to fire someone, you give them the opportunity to do well and find happiness elsewhere. People don't want to be fired. Remember that.
Don't hire Assholes.
Telling people what to do never works.
"To drive better results at Google, I had to work on being more collaborative. " They agreed with the way I restructure the work, but no the way that I had gone about it.
"It's your job to convince me I'm wrong. You failed." Quote after making the wrong decision
Steve didn't just challenge others. He insisted that they challenge him back. If he roars at you, you better roar back… or he'll eat you for lunch.
The best leaders keep dirt under their fingernails.
When facts change, I change my mind
Never tell people how they should feel. "Don't be sad…" Never works…
Never be annoyed. Never be impatient. Welcome criticism, so you can learn.
Be explicit in compliments… "I like it. I think your way of using red was really creative…"
Accuse the action, not the person. Actions can be corrected.
Most bosses fear about being jerks. But most employees fear their bosses aren't shooting straight with them.
Be helpful, humble; do it immediately in person; praise in public; criticize in private.
Always have career conversations with employees, even if it doesn't include the company. Care personally
Walk around. Remove meetings.