It's that time of year again, where everyone seems to have a birthday or is trying to find a Valentine. The month kicks off with Bridget's Bday.
Bridget's Birthday
This is the age that Bridget will be for probably the next six years. So, the real 29th birthday is an important one. For her birthday,  Bridget got some sweet new eye jewelry.
Now when she goes to book club, she will not only speak with authority, but also look the part as well.
Shayna also made dinner, which got me off the hook for the time being. I did however get her an ice cream cake with "Not yet 30!" on the top.
My Birthday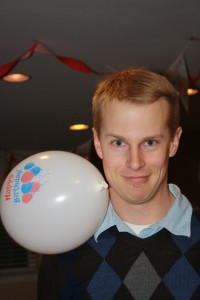 I had a pretty mellow birthday. Or at least that's what I thought. Bridget took me out to lunch, and there was a devious grin to her face. I didn't expect anything other than her being happy that I had a new ipod to run with. I then went back to work and continued my day. Suddenly, I see one of my coworkers come by and tell me that someone's here to see me. And then a singing gorilla pops out:
Well, there goes the days of an anonymous birthday. It was also a Lost night, so we were having Mike and the Gaedtkes over. Bridget cooked it up, which was quite impressive: chicken wings, weiner wraps, and then homemade ice cream sandwiches.
Valentines
There's nothing more romantic than setting a mailbox post on Valentines.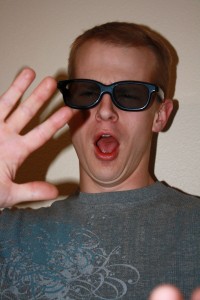 We then went to see Avatar with  Nagisa and Anya. And then finished off our February Madness with a dinner at BJs.