In honor of Earth Day this year I thought I would blog about recycling.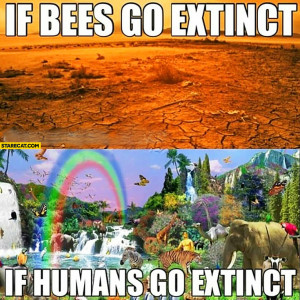 This is a fun topic for me because why not let something have another life instead of wasting its resources? It's all about reducing our carbon footprint. But ugh, it can be complicated! My guess is most people don't know what can and cannot be recycled and either throw everything into the trash or everything into the recycling bin. I sure didn't know how to recycle properly until I started doing more research on it.  This got me thinking, how much time and money does it takes to sort it all out once it's received? Why don't they do any advertising to let consumers know the ins and outs (literally :P)? I don't know the answers to these questions, but here is what I know: recycling seems to be getting easier and there is more awareness about it. Within the past two years recycling in my area, provided by Waste Management, now accepts all recyclables in one bin without presorting.
Curbside recycling will accept the following items as long as they are clean and free of food waste (recyclables with food waste still on them can contaminate the whole batch causing thousands of recyclables to go into the landfill instead of being recycled):
Metals– aluminum cans and foil, steel cans and tin cans. Can lids should be left attached to the cans or dropped inside.
Paper/Cardboard– magazines, newspaper, junk mail, phone books, toilet paper/paper towel rolls, dairy/juice cartons (emptied and rinsed of course), pizza boxes (without food or paper liners), cereal boxes and other paperboard products.
Glass– clear, brown, and green glass.
Plastics– bottles, jars and jugs.
Metal or plastic caps and lids– these items fall into their own category. Most of them can still be recycled curbside as long as you follow certain guidelines. Here is a great article that breaks it down. Basically, keep plastic caps attached to their containers and metal lids separate from their containers. Metal caps can be recycled as long as they are not loose. They should be collected in a can with the edges folded over so they don't fall out during the recycling process and cause mechanical problems (I am thinking of the pile of beer caps I have gathering in the garage….Andy!).
So what about everything else? Curbside recycling is nice and convenient, but it is limited to certain items.
Plastics– there is a lot that fall under this category; plastic bags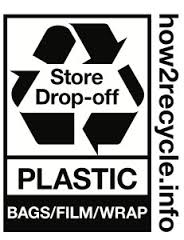 , produce bags, bread bags, newspaper bags, paper towel wrap, sandwich and freezer bags, cereal bags, stretch wrap, bubble wrap, air pillows (think Amazon packaging), and and other plastic films. These plastics can be dropped off at various grocery stores and retailers and usually end up as plastic lumber. You can search the directory at www.plasticfilmrecycling.org for plastic drop off locations in your area.  I like recycling these at Target because the bin has the how2recycle label which makes me feel good knowing that it's being recycled as it should be. Here a couple pictures of their recycling area; this one is by the exit. More to come on ways you can reduce your plastic bag waste.
Ink cartridges– although not accepted by curbside recycling, it's fairly easy to recycle these. There are numerous drop off locations- Best Buy, Walgreens, FedEx Kinkos, etc. Staples, Office Max, and Office Depot offer in-store rewards if you recycle your ink cartridges with them. And you can see in the picture above that Target also has an ink recycling bin. This makes it handy for me to drop off two different types of recycling at one location. There are even places that will refill the ink cartridges for you if you would rather reuse than recycle.
Electronics– computers, phones, digital cameras, TV's, speakers, power cords, cables, etc. A lot of the same places that recycle ink cartridges will also recycle electronics; Target recycles M3P players and cellphones, and Best Buy pretty much recycles the whole gamut. My state also offers free electronic recycling through NV Recycling and Waste Management offers a recycling kit for $50 to cover the shipping; the box can hold up to 70 lbs.
Batteries:
Car batteries– most car retailers, service shops, and auto parts stores will take these to recycle. Really anywhere that services vehicles.
Household and button batteries– alkaline and lithium are the most common household battery- think single use batteries.  Waste Management offers a recycling kit for all these types of batteries for $19.95, which covers the shipping. You can order it and keep the box to store your batteries in and send in with the prepaid shipping label when it's full. There are other programs through www.batterysolutions.com and www.biggreenbox.com that offer the same, but Waste Management seems to offer the best deal. Best Buy will recycle button batteries at their stores.
Rechargeable batteries– there are many recycle locations for this type of battery- Radio Shack, Batteries Plus, Best Buy, Staples, HomeDepot, and Lowes to name a few.
Light Bulbs:
Incandescent and LED– incandescent bulbs are the standard household bulbs with the wires inside. These and LED lights can be recycled at Batteries Plus; check with the links below where else these can be recycled if you don't have a Batteries Plus in your area.
Compact fluorescent bulbs (CFLs)– these are more commonly being used in households to save money on energy, "looks funny, saves money" as my cousin always use to say. They are most commonly recycled at HomeDepot, Lowes, and Batteries Plus. Waste Management offers a recycling kit for these types of light bulbs for $19.95, which covers the shipping. It holds up to 13 13-watt bulbs.
Fluorescent tubes–  these remind me of the lights in the dropdown ceilings of large office buildings or stores. They can be recycled at Batteries Plus and Waste Management offers a recycling kit for $69.95 to cover the shipping. This is pretty pricy in my opinion so you may want to look to see what else is available in your area if you don't have a Batteries Plus.
Christmas trees– our area has a Christmas tree recycling program each year where they set up stations to drop off your tree. The trees are then chipped into mulch that is used for park and weed abatement projects. Some areas offer curbside tree/yard waste recycling and some recycling centers will accept trees dropped off at no charge. Check in your area to see what is offered.
Cards– obviously paper and can be recycled at curbside, but I like the idea of reusing/re-purposing first, if possible. St. Jude's has a card recycling program where they reuse the front of old cards (as long as there is no writing on the back) to make new cards for purchase. Proceeds go to support their programs and services.
Keys– I think these can be recycled curbside as long as they are not lose (see the 'metal or plastic caps and lids' section above), but there are numerous causes such as Keys for Kids and Keys for Hope that can benefit from recycling them. There are probably art projects around that do the same like this sculpture from burning key man made all out of keys.
When I was researching what can and can not be recycled I found a lot of things surprised me. I had never thought of recycling aluminum foil, but it makes sense. I was also surprised that you can recycle dairy/juice cartons, but not single use coffee cups. I thought they were made of the same lining, but apparently dairy and juice cartons use a plastic that is able to be separated out in the recycling process where single use coffee cups do not.
Here are the sad items that cannot be recycled. It does no good to throw these in the recycling bin in hopes they will be recycled (I am guilty of this), they will still be sorted out and thrown away.
Plastics- the remaining plastics come in a variety of low grade plastics that make them too difficult to recycle.
Utensils, straws, plates, cups, etc.– Just think of all the waste from parties, company events, etc. There are other options out there people! I will cover this in a future post.
Miscellaneous– clam shell packaging (think plastic to-go containers or berry containers), pre-washed salad mix bags, and frozen food bags.
Paper cups, plates, and single coffee cups– yes Starbucks cup, this means you :(. These cups have a wax or plastic lining that can't be separated in the recycling process unlike the milk/juice containers.
Shredded paper– can't typically be done residentially as it's too hard to separate from the other recyclables. It can only be done commercially or through mobile shredding companies when it's bailed in large batches. This one doesn't bother me too much as shredded paper will compost fairly quickly.
Mirrors, windows and heat resistant glass–  better to be re-purposed or donated for an art project as they are extremely hard to recycle.
Try these websites to search for various recycling stations in your area: http://search.earth911.com or http://recyclenation.com.