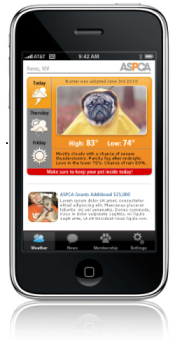 While enjoying yourself at a distant beach, your phone chirps for attention. Curious, you find a Pet Weather Warning on your phone:
"Heavy Rains: Keep your pets inside today"
Your neighborhood has been surprised by a fast-moving rainstorm. What to do? You're hundreds of miles away, and you didn't see it coming.
You immediately call your neighbor as you're haunted by the site of your beloved four-legged friend sailing away down the flooded street.
After the call, your neighbor takes your pet to a safe and sheltered place until the storm passes.
The ASPCA® (The American Society for the Prevention of Cruelty of Animals®) launched an iPhone and Android App that improves your pet's health and comfort while keeping you in the know.
You'll receive alerts when the weather reaches uncomfortable levels for your pets. The app will also provide daily tips and pictures to help you become a better pet owner.  Also, stay up-to-date with news articles covering pet tips to animal rescue stories.
Features
– Displays 3-day forecast
– Sends a weather-related pet photo and tip to your phone each day
– Warns owner of poor weather conditions that may affect your pet
– Customizes the weather based on the GPS location or the zip code you enter
– Provides news with topics covering pet tips to rescue stories


About the ASPCA®
Founded in 1866, the ASPCA® (The American Society for the Prevention of Cruelty to Animals®) is the first humane organization established in the Americas and serves as the nation's leading voice for animal welfare. One million supporters strong, the ASPCA's mission is to provide effective means for the prevention of cruelty to animals throughout the United States. As a 501 [c] [3] not-for-profit corporation, the ASPCA is a national leader in the areas of anti-cruelty, community outreach and animal health services. The ASPCA, which is headquartered in New York City, offers a wide range of programs, including a mobile clinic outreach initiative, its own humane law enforcement team, and a groundbreaking veterinary forensics team and mobile animal CSI unit. For more information, please visit www.aspca.org.