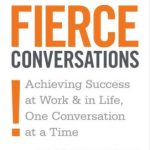 This book came as a casual conversation around the office that was recommended from Rob to one of my employees. I decided to also pick this up as well:
Relationships are built and sustained one conversation at a time.
We behave emotionally first, then rationally. We should flip this.
Relationships are the differentiator (between price, etc.)
Change from focusing on activities… to focusing on results.
Don't direct. Ask > Listen > Then Direct
Most people want to hear the truth. People respond to the truth.
Tough conversations | The Issue Is > It is Significant Because > My Ideal Outcome Is > Relevant Background Info > What I've Done Up to This Point > Option
As a leader -> Hold Ideas towards the end. Let other people decide to get buy-in.
Be able to disagree without being disagreeable
Try conversations with "Yes.. and"
Coaching -> Your goal is to provoke self-generated insight. Don't give the solution or it will become… "I tried your idea, and it didn't work."
Leadership is a practice not a title. It's transparency. Weak leaders want argument. Strong leaders want truth.
Thoughtful Qs deserve Thoughtful As. Need to work on thoughtful A's.
If you're employees think their job is to do what you tell them, you're sunk.
You get what you tolerate.
Hire attitude. Train skill.
Feedback is a gift. Never be defensive or you may not get it again.
No one gets better unless they receive candid feedback.
Always be direct: Name the issue -> Select an example -> Describe emotions -> Clarify what is at stake -> Identify your contribution to problem -> Indicate your wish to resolve -> Invite response.
Never say "I need…" I need to talk to you. I need you to do this… I need.."
What happens if you win this argument? Anything?
My job is to take care of you. Your job is to take care of our customers. Our customers take care of our bottom line.
"Can I give you a bit of feedback?"
Silence is on your side. Use it in crucial conversations.
Coaching is not providing answers. It's helping find answers.